We're organising the first Australian React conference. We need your help.
Why sponsor?
ReactConf AU is offering several sponsorship options for brands to have meaningful engagement with the highly enthused React community.
ReactConf AU provides your organisation:
Access to the largest talent pool of React developers in one place
A cost effective platform for brand reinforcement with a tight knit, professional community
The opportunity to generate goodwill by supporting the professional development of the industry
Alignment with an international initiative that is much loved and respected by the audience and industry
Opportunity to showcase your expertise and capabilities to a pertinent audience
Increased marketing opportunities including visibility on the ReactConf AU website and in marketing materials — in particular the post event ReactConf AU video content
Our aim is to cover the costs of this world-class event with ticket and sponsorship revenues. Those proceeds combine with Thinkmill investment to benefit the community whilst offering both affordable student tickets & a diversity scholarship.
Sponsoring ReactConf AU is a great way to reach skilled, passionate, knowledgeable and influential developers who are leaders in their field and potential talent for your team.
The highly engaged ReactConf AU audience come to learn, network with their industry peers from around the globe, and make React history on Australia's famous Sydney Harbour during summer.
ReactConf AU is a two day, single track technical conference focused on the React.js framework and topics related topics to it. The attendees are software developers who are building front-end applications in JavaScript and native iOS and Android applications with React Native.
We need your help to make ReactConf AU the best React event in Australia.
About the Partner Levels
SPONSORSHIP LEVELS
Partner
Platinum
Gold
Silver
$50,000
AUD
$20,000
AUD
$10,000
AUD
$5,000
AUD
Logo on ReactConf AU website

Yes

Yes

Yes

Yes

Logo on sponsor slide between presentations

Yes

Yes

Yes

Yes

Exhibition Table or Pod

Table

Table

Pod

Pod

Social Media Recognition — Shout out — Tweets

Yes

Yes

Yes

Yes

Place a promotional swag piece in conference bag

Yes

Yes

Yes

Yes

Recognition by MC

Yes

Yes

Yes

No

Spot in the post event video — via interview

Yes

Yes

Yes

No

Blurb on React Conf AU website

Yes

Yes

No

No

Exclusive Naming rights to your choice of added item below

Yes

Yes

No

No

Attendee Lucky Prize Provider (sponsor to supply prize)

Yes

Yes

No

No

Opportunity to address guests at the Opening Welcome (3 mins)

Yes

No

No

No

Logo inclusion on Lectern sign — permanently on-stage

Yes

No

No

No

Logo on lanyard (sponsor to supply lanyards)

Yes

No

No

No

Naming rights to the venue coffee carts

Yes

No

No

No

Optional Extra — Diversity scholarship contribution

*

*

*

*

Optional Extra — THE PARTY sponsor (ask for more information)

*

*

*

*

Optional Extra — Discounted Group Tickets at only $880 AUD

*

*

*

*

Included Attendee Tickets

5

2

1

1
Naming Rights bonus item to Partnered With & Platinum Sponsors
These highly sought after opportunities are made available to our Partnered With & Platinum sponsors on a first-in best dressed basis. Please select the area you would like to be given the naming rights too.
Tote Bag Sponsor

Event T-shirt Sponsor

Event Official Sticker Sponsor

Lunch Day 1 Sponsor

Lunch Day 2 Sponsor
Diversity Scholarship Contribution Opportunities
As a top-tier sponsor you have the opportunity to also contribute and be positioned with the ReactConf AU Diversity scholarship offerings at this event. Here is your opportunity to contribute — please let us know if you would like to take a Tier 1 or Tier 2 level in addition to your partner level.
Tier 1 - $5,000
 AUD
Tier 2 - $2,000
 AUD
At these levels of sponsorship you are also offered the opportunity to purchase group discounted attendee tickets, which have been reserved for you till 31st October, 2019. These are available at a discounted price of $880 AUD each in groups of 10 tickets ($8,800 AUD) Limited number of these are available.
ReactConf AU is being produced by your friends at Thinkmill
We're Sydney based designers and developers who make great software with clients around the world including Atlassian, Breville, and Stan.
We believe in supporting our profession with quality, community-building events and training. This is why we are investing time and capital into ReactConf AU.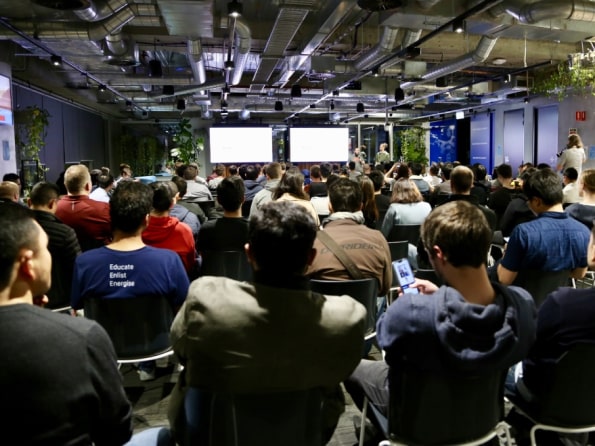 What People Are Saying
Here's what a few of our upcoming attendees had to say
© 2020 - Thinkmill Events Pty Ltd. All Rights Reserved.
1 Thinkmill Pty Ltd, ACN 633 767 405
2 All prices are quoted ex GST & AUD